Gypsy Muse Duo ft. David Renaud on clarinet
June 27, 2021
@
7:30 pm
–
8:30 pm
EDT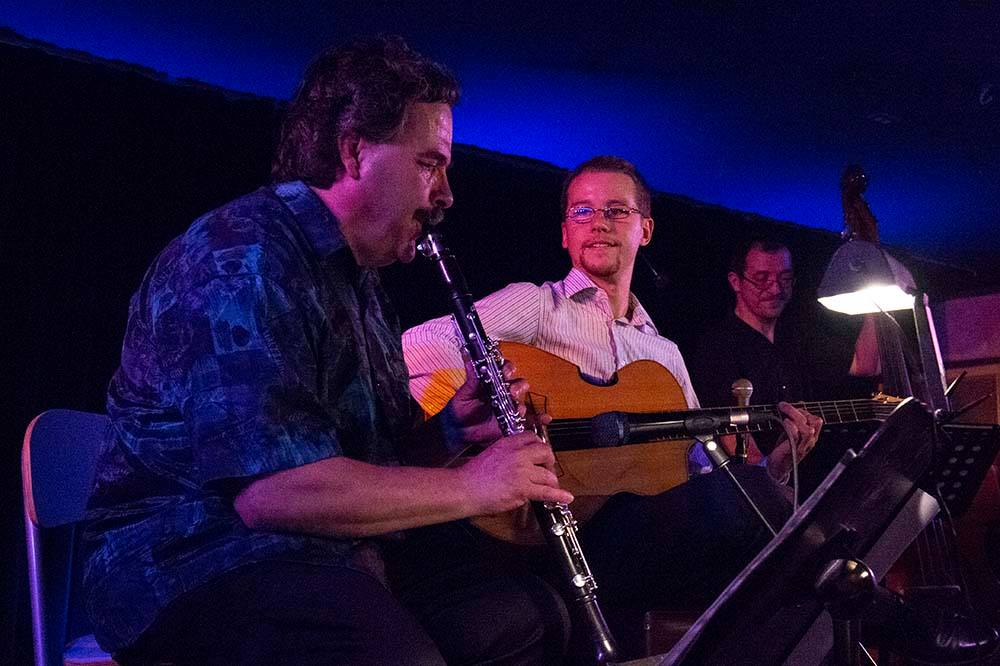 Gypsy Muse is Justin Duhaime's jazz manouche project inspired by the legacy of legendary guitarist Django Reinhardt, the music is driven by swinging and grooving rhythm guitar which functions as a vehicle for improvisation. They combine an eclectic mix of high energy swing, latin grooves, virtuosic fast tempo tunes and luscious ballads. Find them at the confluence of the old and the new.

David Renaud has been immersed in a diverse and rich musical life performing swing, jazz, theatre, orchestral, and studio for 35 years. He has written music for solo, choral, duos, small ensemble, and big band. Dave performs for National Arts Centre Pops concerts, and covers a multitude of doubles for theatre pit orchestras. Dave is the clarinet professor for Carleton Universities music department.

Justin Duhaime is a passionate guitarist, composer and teacher based in Ottawa. He has performed at ChamberFest, JazzFest, FolkFest, TulipFest and sold out concerts at venues such as Irene's Pub and Pressed. Duhaime is the recipient of the Ottawa Arts Council's 2018 RBC Emerging Artist Award, the first musician to ever receive the award. As a freelance guitarist Duhaime has performed in a wide array of musical styles. Most recently, he has emerged as a leading figure in the jazz manouche scene in Ottawa. Duhaime has a self-published guitar book and is sponsored by DK Guitars. www.JustinDuhaime.com

Signup to the mailing list to be the first to hear about upcoming events.

IMPORTANT TICKET INFO

You can purchase tickets by sending an e-transfer to jaduhaime@hotmail.com for the amount of 20$. Please be certain to write the following in the note when you send the transfer: June 27 Ticket for YOUR EMAIL ADDRESS. Alternatively, you can purchase a ticket via the link below which is through PayPal and they understandably take a cut for their service.

Ticket sales end on Sunday June 27, 2021 at 6pm. Once you've purchased a ticket, you will be sent an email with a private link to the stream on the day of the concert. The link will be sent out shortly after ticket sales close at 6pm. The stream starts at 7:30pm on June 27, 2021 and will last for 45-60 minutes. Thank you so much for your support.